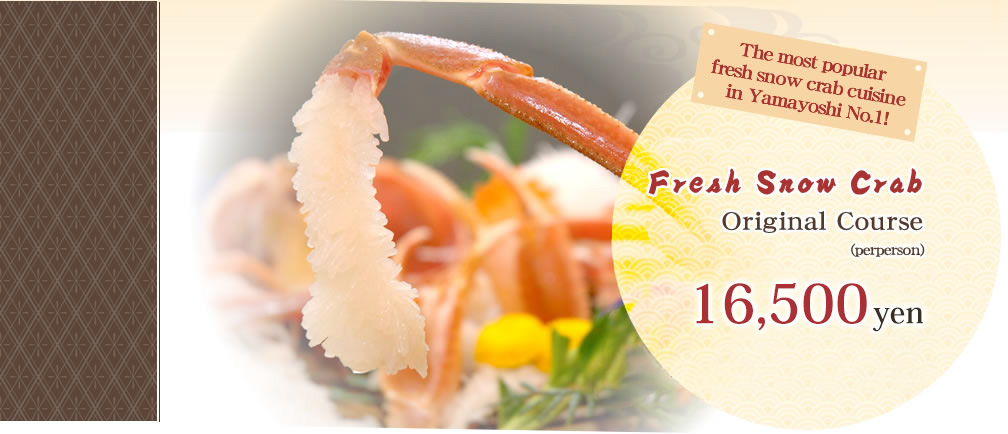 ※you can order this course with more than a person Also you can choose Kaiseki or Kanisuki courses stuted below.
・appetizer
・sashimi of fresh snow crabs
・grilled brown meat of fresh snow crabs
・grilled fresh snow crabs
・crab tenpura
・crabs with vinegar sauce
・a small hot pot with crabs and
 vegetables (from Kyoto) perpers staurants
・crab sushi
・soup
・appetizer
・sashimi of fresh snow crabs
・grilled brown meat of fresh snow crabs
・grilled fresh snow crabs
・Kanisuki of raw snow crabs
* The Price is for pne person The difference between those three prices is the quality of the crabs, and the menu is the same.
※ The prices above don't include 10% change.
※If you would like to habe higher quality of Matsuba crabs course,
please contact us.We will do our best to meet your expectations.
※We have offered this special course since 6th November.
We habe sticked with the highest quality of fresh snow crabs, which is the most popular cuisine at Yamayoshi.
However, snow crabs can leep refined tuste only duriy winter time."We would like to serve this selected refined
taste of snow crabs as many customers as we can have in the best season for crabs."
This basic spirit is the secret of our popularity as the Fresh Snow Crab Restaurant.
Therefore, Yamayoshi in Kyoto opens only duriy the crab season.(from Octover to March.)
However, We offer stable good-tasting crabs throughout the year at Yamayoshi in Shiga.
You can have two fresh snow crabs per person in Full
Course of Fresh Snow Crabs.
The one is boiled with special vinegar sauce of Yamayoshi.
The other one is raw fresh snow crab, so you can enjoy in
various ways.
This is the exact course for true crab lovers!


※This price doesn't include 10% service change.
First, is the appearance of one animal crab whole!
I have been boiled in the shop fresh "active" crab.
It is delicious even if I have served in the Tosa vinegar
Yamayoshi homemade to your liking.
you can feel real freshness as Sashimi called
Hanazukuri
you can enjoy soft texture of crab meat as grilled on
the net by yourself.
you can also enjoy the hot pot with sophisticated crab
soup.
As you can see, there are various styles to enjoy fresh
snow crabs in this course.
we highly recommend to eat "Hanazukuri" as
sashimi.
Also, when it's boiled in hot soup,it changes the
shape as if flower,which is the proof that it was
alive minutes ago.
The grilled brown meat of crab goes well with
Japanese Sake!
Also, you will be surprised how soft orur crabs are
when they are grilled in high tempura ture of heat on
the net.
Enjoy the original taste of crabs with grilled meat of bodies and claws!
It's time to eat them in half raw, you just have to grill crabs for a few
minutes!
You can add salt if you prefer.
You can have brown meat of crabs without cooking, and you can grill
for a few second if you prefer.
Enjoy its sophisticated taste of the best part of the crabs!
Also, it goes well with sake!
We recommend you to put Japanese sake in the shell after enjoying
Brown meat.You can also put the meat claws in it!
You can put "Hanazukuri" in hot soup in the pot like "
shabushabu".
Also, you can enjoy Kanisuki with crabs and vegetables
made in Kyoto!
At the end of the course, you can put rice in the hot
pot.
You will be satisfied with the sophisticated tast of
soup out of crabs and Kyoto vegetables.
※If you have several companies, we offer one big pot pot instead of small hot pots for per person.
© 2010-2015 YAMAYOSHI-GROUP.